Tenof EM (Tenofovir 300mg, Emtricitabine 200mg) generic Truvada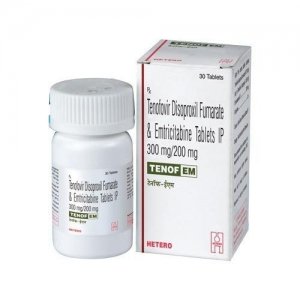 u-hiv.com
Tenof EM (Tenofovir 300mg, Emtricitabine 200mg) generic Truvada
Delivery from India up to 14 days for $ 30.
The minimum order is 4 packs.
Pack of 30 tablets.
Tenof EM generic Truvada (Tenofovir 300mg, Emtricitabine 200mg) buy at profitable price in India
Tenofovir / Emtricitabine, Tenof EM Generic Truvada is a combination of two antiretroviral drugs used to treat and prevent HIV infection. The drug includes 300 mg of tenofovir (as a prodrug of tenofovir disoproxyl fumarate) and 200 mg of emtricitabine. The combination of two drugs in one pill reduces the number of tablets a patient should take daily and increases the compliance of antiretroviral therapy.
Truvada has been tested as a prophylactic against HIV infection. Cochrane studies have shown that tenofovir alone and in combination with emtricitabine significantly reduces the risk of HIV infection. In May 2012, the Antiretroviral Drug Committee recommended that the FDA prescribe the drug to uninfected men who have sex with several male partners. On July 16, 2012, the FDA recommended the use of a combination of tenofovir / emtricitabine to reduce the risk of HIV infection.
The drug has the following side effects: nausea, vomiting, dizziness, decreased appetite, diarrhea, the drug is toxic to the liver and kidneys and causes a decrease in bone density.
Clinical researches
A double-blind, randomized, multicenter, placebo-controlled study of the drug showed that daily single use of emtricitabine / tenofovir and lopinavir / ritonavir or enhanced atazanavir or efavirenz were effective as the first drugs for the treatment of HIV-1.
In other randomized trials, emtricitabine / tenofovir 200 mg / 300 mg once daily was effective as the first drug in the treatment of HIV-1.
Emtricitabine / tenofovir in combination with protease inhibitors was well tolerated by adult HIV-infected patients.
The drug "Tenof EM" was developed by the company "Hetero" and approved for use by the FDA in 2014.